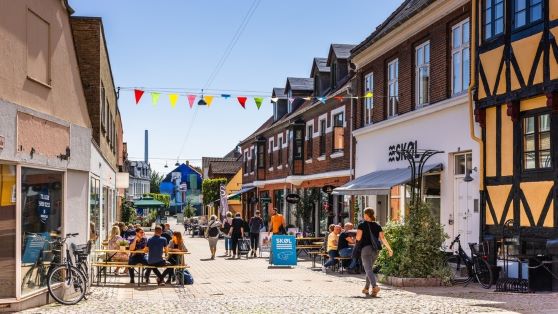 The demand for green electricity is set to increase sharply in the coming decades. To meet the daily needs of the citizens as well as the industries, production capacity will have to rise accordingly. But which solutions are suitable and feasible on the municipal level? During 2023, Energy Modelling Lab is participating in a series of meetings to support local dialogue on green transition.
The meetings are organized by the Danish Board of Technology. Both citizens, representatives from the local industries and decisionmakers are participating. In many places, heads of the local industries and businesses are very keen on being at the forefront of the green transition. Also, experience shows that many citizens are knowledgeable and willing to engage. Dialogue can increase the support to the changes that the green transition entails.
Planning for PtX facility
During meetings in Vordingborg Municipality, we presented charts explaining the estimated increase in the demand for green electricity. Due to the planned installation of a PtX facility on the harbour, the demand is expected to rise by more than six times by 2050.
We showed that this demand could be met by a mix of new solar power facilities, wind farms and other green energy sources. A number of on-shore and off-shore wind farms are currently being planned. If all of them are installed, they could meet even a 12-fold rise in demand. It is expected that the access to green energy will attract new industrial facilities on the harbour.
In the Municipality of Kalundborg, we also presented charts explaining the land-use needed to produce 1 million MWh by different kinds of green energy production facilities. The areas needed are presented in comparison to the total area of Kalundborg:
We also showed the estimated energy generated, if solar panels were installed on the roofs of all buildings larger than 500 m2: It would amount to 200.000 MWh or enough to meet 20% of the estimated demand in 2030.
A common obstacle to the installation of solar power facilities and wind farms is the lack of support by local landowners and future neighbours. Insights to the actual land-use needed can help setting realistic goal when planning for future energy facilities.
Project: "Fremtidens Grønne Energi og Borgerne" ("Future Green Energy and the Citizens")
Duration: 2023
EML Team: Ida Græsted Jensen
Client: The Danish Board of Technology