Model development
With a long background in energy system modelling and more specifically in the TIMES framework, we can support in development of new and existing TIMES models.
Important in such energy system models are the data input and result structure and management. We focus on developing tools that optimises this process making it simpler and fast to update or change the datasets. As well as making results available in an open and easy access approach, similar to https://comets.tokni.com.
Advises for CO2 reductions, energy systems and policy development
We work with connecting the management and policy makers with the technicians and experts in the fields of energy and climate through our advises, models and workshops.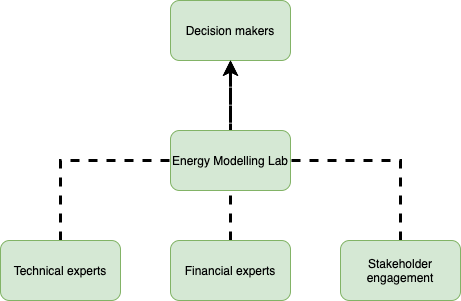 We can provide advisory support for the creation of climate and energy strategies, using model results to calculate CO2 reduction pathways, as well as sensitivity analysis of these. This is ideal for governmental institutions such as agencies, political parties or municipalities. Furthermore, we can support in designing policies with a full evaluation in the energy system models, calculating the costs and CO2 reductions from set policy. The benefit of using such models is the possibility to evaluate the cross sectorial policies and sector coupling.
Carbon reduction scenarios
Detailed analysis of the energy systems transition to become renewable based. E.g. What pathways to the Danish target of 70 % GHG reductions in 2030 and 100 % reduction by 2050 would align with the Paris Agreement, and which sectors/sub sectors are required to support the transition faster.
Assessments of technologies
We provided external assessment of new technologies for implementation into technology catalogues and sensitivity analysis for future potentials.
Technology Catalogue support part:
The role of Technology Catalogues e.g. DEA and Energinet´ s danish catalogues, and why a specific technology should be included
Collecting technology data incl. tests and demo plant experience
Technology description in Tech Cat format
Technology description in table format
Analysis part:
What is the potential for the technology on various regional levels e.g. Denmark/Nordics/Europe
How will the technology fit into the future energy system of e.g. Denmark – using TIMES-DK as an explorative system model
Improvement of TIMES-DK to better represent specific technologies and where it can be utilised
Detailed potential analysis – which processes can the technology be combined with e.g. P2X, low-high temp. heat pumps, electric vehicles, other
What are the requirements to the technology development (learning curve) for it to play a significant role in the future energy system
Scenarios illustrating in which sectors and purposes the technology potentially can be a solutions in the transition of the energy system
Workshops
The workshop approach, Model Lab, is inspired by war room facilities. If you want results, gather the right people in the same room and give them access to all the relevant information.
Workshops can be held using any of our modelling tools and the focus can be on specific sectors or the whole energy system. Especially the TIMES-DK model is prepared for creating scenarios using Model Lab Workshops.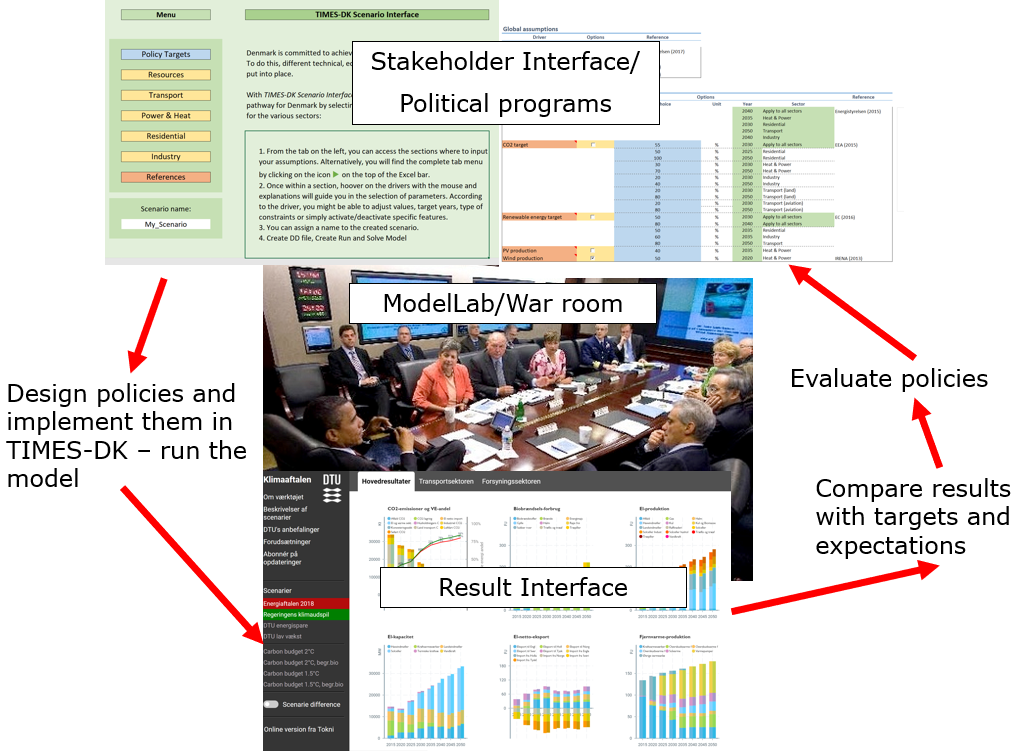 Typical 1 day workshop
Discuss targets
Find policies that can realise the targets
Translate found policies to parameters in the energy model
Run model creating future scenarios (lunch break)
Visualise results and discuss
Revise policies
We have found that having model results prepared and ready within the workshops, provide a deeper knowledge and understanding of the policies or strategies. Furthermore,
Presentations and educational material on energy and climate
We have a history of providing presentations and speeches on climate and energy today and in the future, as part of our time at DTU. And, have for the last 3 years been head of the energy system model courses at DTU.